On the morning of November 5th, the second day of the opening of Baoan Industrial Development Expo, the signing ceremony of the major investment and promotion projects of Baoan District in 2019 was held in Shenzhen International Convention and Exhibition Center. This is the second signing ceremony of a major investment promotion project at Baoan Expo. This time, 30 key cooperation projects were signed, mainly involving advanced manufacturing, marine, aviation, artificial intelligence and other fields.
According to reports, this year is the fourth year to hold the Baoan Expo, and it is also the first time that the Baoan Expo will return to Baoan. In this Baoan Expo, Baoan District signed two batches of a total of 54 projects, with an intention investment of 47.67 billion yuan. This is also through the implementation of the specific measures of "inviting big businessmen, excellent businessmen, and good businessmen" ,and"Go home" salute.
Explore and practice the demonstration highlands of "socialism with Chinese characteristics", and highly meet the planning requirements of the Guangdong-Hong Kong-Macao Greater Bay Area. The investment promotion department of Baoan District integrated resources with the courage and courage of "Building bridges in water and opening roads in every mountain", and strengthened the communication and communication between departments and streets, and actively attracted big businessmen, excellent businessmen, and good businessmen to take root in Baoan. The introduction of a number of high-quality projects will play an important leading role in the development of Baoan industry in the future, inject strong new impetus and new vitality into the high-quality development of Baoan economy in the new era, cultivate new kinetic energy for the high-end development of Baoan industry, and work together to help Baoan From "Industrial Region" to "Industrial Power District", and promote the construction of "Bay Area Core, Intelligent Highland, Shared Homeland".
The implementation of high-quality projects injects new vitality into Baoan development.
Yesterday's 30 contracted projects involved advanced manufacturing, marine, aviation, artificial intelligence and other city-level industry associations, Hanxing Biotechnology Co., Ltd., Beijing Huate Intelligent Control Electric Vehicle Technology Co., Ltd., Telai New Energy Co., Ltd. Leading enterprises in other industries, as well as multi-form wide-field project cooperation such as key parks and award-winning team projects.
Among them, 7 municipal industry associations signed a strategic cooperation framework agreement with Baoan District Investment Promotion Agency, including Shenzhen Advanced Manufacturing Association, Shenzhen Marine Industry Association, Shenzhen Aviation Industry Association, Shenzhen New Materials Industry Association, Shenzhen Artificial Intelligence Industry Association, etc., they will concentrate high-quality resources of the industry, actively participate in Baoan's manufacturing transformation and upgrading, marine industry construction, aviation logistics industry development, etc., to help Baoan speed up the construction of "intelligence highland".
There are 5 contracted projects that belong to "specialized and refined", including biotechnology, new energy vehicles, charging network platforms, graphene industry, pipeline network dredging detection, three-dimensional visual sensing, etc. They all have leadership in the subdivided fields status.
The signing projects of 10 streets are also quite bright. For example, the contracted micro-point biotechnology Co., Ltd. is the world's leading biochip technology research and development company. It plans to invest in the construction of a 100,000-level GMP workshop and a dedicated chip storage refrigerator in Xin'an Street.
Another example is the domestic A-share listed company Aerospace Information Co., Ltd. is a high-tech enterprise initiated and established by China Aerospace Science and Industry Group Co., Ltd. and controlled by a central enterprise. It plans to set up a southern headquarters in Baoan District and move its registered subsidiary to Hangcheng street.
The contracted projects of the five parks will also bring development vitality to the Baoan Industrial Park. For example, the signed diamond composite sheet for drilling of Haimingrun Superhard Material Co., Ltd. has been exported to the United States and other countries, and it is planned to settle in Fuyong Meiying (Phoenix) Zhihui Innovation Park.
The outstanding projects of the two innovation and entrepreneurship contests also took advantage of Baoan's "home". Sanshen Technology intends to carry out R&D and production of advanced electronic packaging materials in Baoan. The products are mainly solvent-free electronic glue, which achieves zero pollution from production to use, and has high technical content and market competitiveness. Banlan Ocean is committed to the development of marine special equipment and intelligent underwater robots. Its main products are underwater cleaning robots for cleaning attached marine life.
"Hard Power" and "Soft Service" Attract Excellent Enterprises to Create Glory Together with Baoan.
What attracted so many high-quality enterprises to choose Baoan to create brilliance? On the one hand, Baoan is Shenzhen's economic zone, industrial zone, intelligent manufacturing strong zone and real economy zone. There are 3941 national high-tech enterprises, ranking second in the country's districts and counties, and the province's first, especially in many industries. A complete industrial chain, which is Baoan's "hard power" to attract enterprises; on the other hand, Baoan District clearly puts forward "industry first, enterprise first", always regards high-quality enterprises and entrepreneurs as "heart and soul baby", and played a promotion camp The business environment "1+5+7+N" benefits the enterprise policy combination, and strives to make Baoan a fertile ground for international and domestic entrepreneurs to invest in business and thrive. This is Baoan's "soft service" to attract enterprises.
Shenzhen Anjieli New Technology Co., Ltd. is currently registered in Baoan. This is a high-tech company specializing in the research, development, production and sales of data storage core technology and products, with a new generation of storage master chip as the core.
"We mainly focused on R&D investment in the early stage. This year's estimated investment is about 100 million yuan, next year it will exceed 150 million yuan, and the next year will be about 200 million yuan." Li Pin, general manager of Shenzhen Anjieli New Technology Co., Ltd. said that it is expected Within five years, it will become one of the strongest storage companies in the field of independent controllable and emerging markets, and the output value will reach one billion in three years.
Talking about the reasons for choosing Baoan to land, the general manager of Shenzhen Anjieli said, "First of all, Shenzhen and Baoan are a base of the electronics industry, covering almost all consumer electronics. After we came to Shenzhen, the Baoan District Government included investment promotion The Department and the Sub-district Office have provided attentive services and have been very active in communicating with us. We have seen the government's care and support for enterprises. After many comparisons, we have chosen Baoan."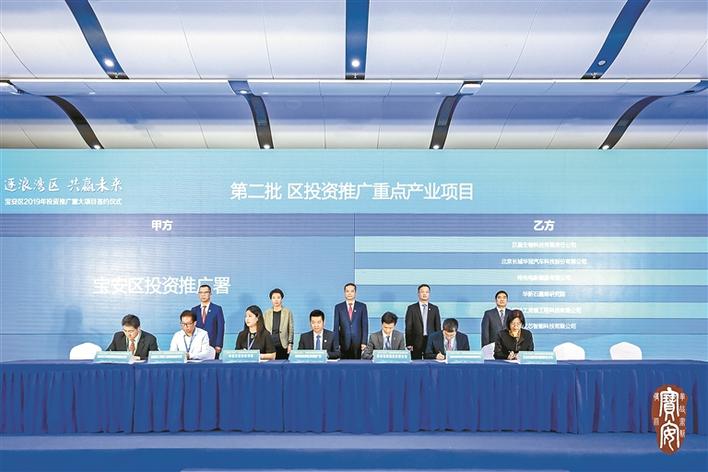 "I am very impressed by Baoan's service and support." The general manager of Shenzhen Anjieli praised the thoughtful and meticulous service of Baoan District. "For example, some very small things will work hard to follow up. Like we are currently working on We will listen carefully to the demands of the enterprise on the venue of the talk, if there is something that is not in place, or there is something that needs to be improved."
"Baoan has broad development prospects!" said Zhao Xinliang, director of the Haidian Park Entrepreneurship Service Center of Zhongguancun Science and Technology Park. Baoan has a very good geographical location. In addition, it has obvious advantages in manufacturing.
Baoan's development advantages attracted the implementation of the "Shenzhen Zhongguancun Overseas Students Pioneering Park" project. This is an industrial accelerator jointly established by the Beijing (Haidian) Overseas Students Pioneering Park and Country Garden Phoenix Phoenix Valley in Xixiang Subdistrict. It will introduce intelligent hardware, artificial intelligence and other technology-based enterprises and high-level talents to settle in Baoan. Zhongguancun's mature and complete professional operation team and industrial service system will be introduced to the Shenzhen Zhongguancun Overseas Students Pioneering Park. Relying on the advantages of high-level talent gathering and strong financial resources in the Zhongguancun system, it will continue to cultivate and accelerate high-tech enterprises for Phoenix Zhigu and even Baoan. District transports a steady stream of high-quality incremental enterprises. In addition, an industrial resource transfer channel will be built to create a dual-headquarters model of "technology R&D in Beijing and industrial intelligence in Shenzhen."
Constructing a large investment promotion pattern and dreaming up the demonstration area in the Greater Bay Area.
The Baoan District Party Committee Government has always attached great importance to investment and promotion, and has continued to strive to create a world-class business environment and shape Baoan's excellent business brand. As the strategy of the Guangdong-Hong Kong-Macao Greater Bay Area continues to advance, and Shenzhen has ushered in a major development opportunity to build a leading demonstration zone of socialism with Chinese characteristics, Baoan District regards building a leading demonstration zone of socialism with Chinese characteristics as the general traction and general requirements for the work of the whole district. To explore and practice the demonstration highlands of "socialism with Chinese characteristics", highly plan the requirements of the Guangdong-Hong Kong-Macao Greater Bay Area, strengthen industrial and technological innovation, and achieve higher quality development. This also puts forward higher requirements for doing a good job in investment promotion and in-depth implementation of Shenzhen's important deployment of "recruiting big businessmen, attracting excellent businessmen, and attracting good businessmen".
Since the beginning of this year, the investment promotion department of Baoan District has identified specific measures for investment promotion through solid basic research, in-depth integration of investment resources, and optimization of enterprise management services. It has brought together the investment departments and built a large investment promotion structure. The effectiveness has been significantly improved.
Do a solid foundation to sort out the research and urge the project to be connected with the carrier. In order to promote the accurate docking of high-quality industrial projects and industrial carriers, the Baoan District Investment Promotion Agency sorts out industrial carriers with a construction area of more than 10,000 square meters in the district to form a dynamic analysis report; sort out electronic information, intelligent manufacturing, high-end equipment manufacturing, and labor The industry development status of 5 leading industries such as intelligence and 9 sub-sectors, proposed the strategy of attracting 3 key directions, 12 key industries and 4 types of key platforms for Baoan District project; carrying out forward-looking industry research and scientific research analysis The positioning, goals and industry choices of the development of the digital economy and artificial intelligence industry in Baoan provide reference for the decision-making of industry cultivation and investment attraction. In addition, it also sorted out the land use methods and classic success stories of the project, and sorted out land supply methods such as listed transfer, agricultural land access to the market, property rights for equity conversion, and joint development, to provide a reference for the implementation of the project.
Deeply integrate investment resources and gather together the investment departments. The Investment Promotion Agency of Baoan District strengthened its close connection with the Shenzhen Municipal Bureau of Commerce, coordinated to attract major projects outside the city and abroad, and jointly carried out investment promotion activities in Germany, Ukraine and other regions. Dynamic and other information. Strengthen exchanges with various departments, streets and parks, convene business invitation meetings for streets and parks, visit and investigate streets and parks more than 50 times in the field, and effectively coordinate project recruitment and carrier statistics.
Optimize enterprise management services and enhance the effectiveness of project recruitment. By improving the project tracking mechanism, in Baoan, every key invitation project can get personal and intimate services. Through the "one key project, one dedicated leadership group, and a WeChat work group service mechanism", the first question responsibility system is implemented to improve the effectiveness of project recruitment.